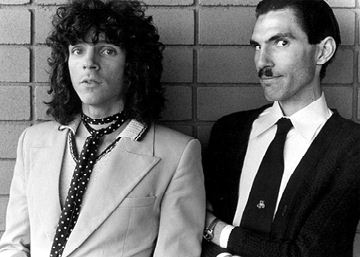 J'éprouve une certaine fascination pour le glamrock. Quand j'écoute cette musique, j'oscille toujours entre le fait de rester premier degré (appréciant ces chansons délirantes) ou de passer au second degré (m'amusant de ces drôles d'énergumènes qui n'ont pas froid aux yeux).
Aujourd'hui je vous parle donc des étranges
Sparks
. ce groupe formé vers 1970 existe toujours. Après 1975, il n'étaient plus que deux : Ron et Russel (mais ça en fait toujours un groupe !) : le "pianiste" moustachu et le chanteur à la voix haut perchée.
Voci en 1975 This Town Ain't Big Enough for The Both Of Us
J'avoue que le grand moustachu (qui a l'air de fasciner le cadreur) me fait un peu peur...
Là, leur version tardive et concise de My way.
Bon week-end !